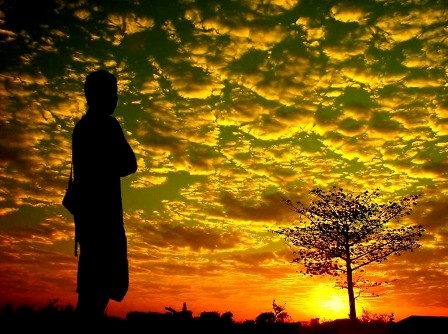 Like the deep sea…

Spiritual work happens secretly in the heart. Externally, let everything else threaten us. Like the sea: The wind blows, waves rise. But deep down it's all quiet, peaceful, serene.
This is how a man who trusts in God lives. There might be a wild rage out there, but deep down nothing hinders the soul from having a mystical communion with God, a mystical love for God. Quietly and mystically, in a special way that the heart perceives, the Lord is whispering: "Don't be afraid.  I am here. Keep walking this path. Keep loving me, keep believing in me, keep following me".
It's not enough to suffer myriad things in life. When, though, you believe in God and accept all these –whatever it is that happens to you- gladly, for the love of God, God will make a saint out of you.
Man will find all, but after he has lost all, after he has deprived himself of all. It matters greatly for a man to deprive himself of the most beautiful, the best, the most innocent, the purest things, which the Lord Himself has deprived himself of.
It matters greatly for man to deprive himself of things because he loves God.
Christians of comfort
We are Christians of comfort. That's why the Lord will let struggle a lot.
Don't expect salvation with certainty, unless all comforts are abolished in you.
Our whole Christian mentality functions wrongly.  On the one hand, we want to avoid suffering. On the other, we take great care not to lose or deprive ourselves of anything. And we "walk" wrong.
In the long run, whether we like it or not, we will have suffering. And indeed, when we have a fake impression that we are enjoying the goods of this world, our life is often like hell.
Holy Hesychasterion "The Nativity of Theotokos" Publications.
Archimandrite Symeon Kragiopoulos
Christians of comfort