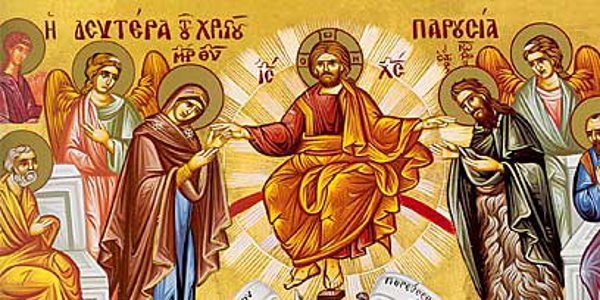 (Matt. 25, 31-46)
Before the criteria of God

Today is Judgment Sunday, and in order for us to be prepared, our Church calls us to think of everything that will occur in the Lord's second coming, the final judgment. And that which prepares man for this is repentance, true repentance.
When someone thinks of the judgment of God, and that he will be judged for all his works, this truly helps him to repent, to change his life. So many people think that because some sinfull things they did were done in secret and nobody knows, or because a few years have passed and these things have been forgotten, that they have been wiped clean. This is not the case! There is nothing that will be wiped away simply by the passing of time or with oblivion (by you forgetting).
Only if man repents, does he put himself in order; and only if he repents of everything.
Certainly there exist kind people, helpful people, etc., and yet they all have a weakness.  One has the weakness of immorality, another the weakness of alcohol, and the other of something else. However, God says: "For whosoever shall keep the whole law, and yet offend in one point, he is guilty of all". He who transgresses one commandment is considered a transgressor of all the commandments. It is necessary that we desire to learn everything Christ said: to observe, to accept, and to struggle to fulfill everything. And so, just as the saints say, if you do not repent as though you were standing before the criteria of God and giving him an account of every single thing, the repentance you have is not salvific.
The remembrance of the coming Judgment will help us to stop sinning.
Archimandrite Symeon Kragiopoulos
Holy Hesychasterion "The Nativity of Theotokos" Publications.
Meatfare Sunday