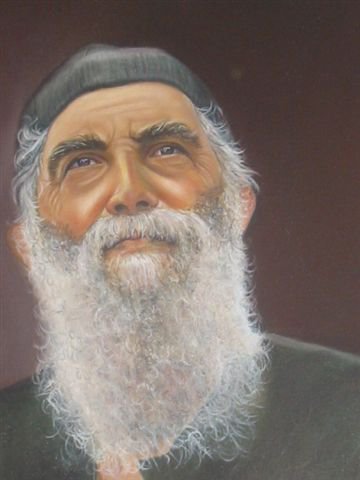 "I was a law student," recalls Monk Paisios, "and I visited the Elder on August 22, 1988, with a classmate of mine named Gregory. It was my first visit to the Holy Mountain. People I knew had urged me to go, because I was estranged from the Church. I went mostly for what you might call 'spiritual tourism,' but I also wanted to prove to the Elder that there is no God and that he had wasted all his years as a monk.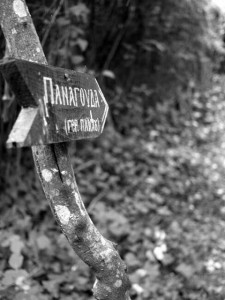 "We arrived at Panagouda around four o'clock in the afternoon and found about thirty-five people waiting. They rang the bell persistently, but the Elder didn't come. We went around to the back, but it was locked. I don't know what happened inside me, but there―for the first time in twelve years of living without the mysteries of the Church―I knelt down and prayed. I said, 'My God, if You really exist and You want me to believe, make the Elder come and talk to us about You.'
"Not even five minutes passed before the Elder emerged from the woods and slowly approached us with a serene look and a very sweet smile.
'Father Paisios?' I asked with emotion.
'What do you want Father Paisios for?' he replied.
'To give him these socks and to get his blessing.'
'Bend down, so I can bless you,' he said to me.
"Not since my baptism had I received that kind of blessing. He laid his hand on my head and prayed for about five minutes.
"Later he took us to the yard outside his cell, and we sat on the logs. He spoke about God and world events as though he had heard the latest news reports, all the while offering us lots of lumps of delight.
"In the meantime, two guys who looked like anarchists arrived, and the Elder continued his talk. He also spoke to us about Buddhism, gradually, like a doctor, removing the thorns that had been embedded in me―I had done yoga for an hour a day for the past few years.
"After an hour of discussion, he turned to me and asked, 'Do you want to become my disciple?' 'No, Father,' I answered, 'I'm just not suited to this kind of thing: I love the world.' He asked the question several more times during my visit, but unfortunately I was so far away from spiritual things at the time that I couldn't grasp the magnificence of his proposal.
"Afterward he left us to go and stack some chopped wood. We said that we would help him, but he refused, saying that he did it for asceticism and that it was his obedience.
"For about fifteen minutes, we four spiritual tourists didn't speak to each other. The Elder's words had made an impression on us. With everything he said he removed my doubts about the existence of the Triune God. But at the same time, the evil one was attacking me with thoughts, which I accepted. It crossed my mind to ask the Elder secretly, inside my soul, what we must do to gain paradise. I supposed, with my vainglorious brain, that since Father Paisios was so spiritually advanced he would guess my thoughts and answer me. God had pity on me, ignoring my egotism. I saw the Elder put down the wood and come toward us with slow strides, looking deep into my soul―and no longer at my eyes. And he answered me, 'Have love and faith in Christ, my child.'
"My legs began to tremble, and my heart was beating so hard that I thought it would burst. The only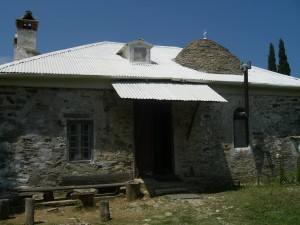 thing that I was able to say was, 'Gregory, let's go,' and 'Father, your blessing.' He replied, 'Why do you want to leave? Sit down, I'll make you my disciple, and I'll even give you my name.' But my heart couldn't bear the divine revelation that had taken place inside it.
"From then on, my life changed entirely. Even though I never saw him again, there was always an inner spiritual communication between us. His presence in my life, even after his repose, has manifested itself in an amazing way on many occasions. But the biggest miracle is that, although I had been completely estranged from the Church, he succeeded in planting Christ in my soul forever. In less than six years, I went from denying our Church to being a monk. And I received the name Paisios, just as the Elder had foreseen."
sourse :
Elder Paisios of Mount Athos
©2012 For the English Language by The Holy Monastery Saint Arsenios the Cappadocian
How the elder planted Christ in a young man's soul