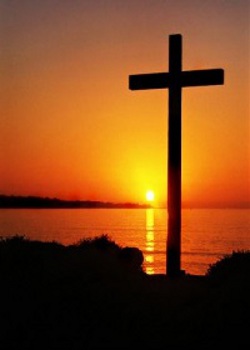 Christ, our Lord and Saviour, with His incarnation and His unique Sacrifice offered on the Cross showed the extreme love of God expressed to mankind.  For this reason He is called the Bridegroom of the Church.  In many Parables our Lord used the image of a wedding festival to express His relationship with those who will be or not saved.  St. Maximus the Confessor teaches us saying that God is love and who is being loved.  St. Ignatius the Theophoric calls God " his love who is being crucified".
            Nicolaos Kabasilas in order to give us to understand God's love, he uses the example of those who are in love.  As the couple always seek the one for the other, and when they are together they are feeling wonderfully;  in a similar manner God loved so much the world, that He became man to seek of what it was lost.  God does not only call all men to repentance, but He Himself came into the world, took up flesh becoming a perfect man, but without sin, and suffered on the cross death.  Through His death He granted life to all those who believe in His name.
 Two are the basic characteristics of true love.  The first is that the one who loves offers everything to the other who is being loved; and secondly, the first suffers everything for the second.  When someone suffers for the one who he loves, then this expression of love is greater then offering.   Because of the guilt of sin, man was unable to reconcile himself to God, God had to become man and suffered for man's sake.  Dying on the Cross God the Logos became the one and only mediator  between God and man. 
            In God's love for man one must seek the reason for His incarnation, crucifixion and resurrection on the third day.  All these historical events took place, "when the fullness of the time had come, God sent forth His Son, born of a woman, born under the law, to redeem those who were under the law, that we might receive the adoption as sons" (Gal. 4:4-5). 
         No one else had so much love as Christ did for mankind, for He did not only suffered pain, but consider His sufferings valuable.  He offers Himself to all the members of His divine Body, sanctifies them and grants eternal life to all who believe in His name.  Through Christ's love man is cleansed from sin, because when one loves Christ he struggles against all evil.
            The relationship between Christ and the Orthodox Christians is not an emotional  condition, but it is the fruit of the extreme love for Christ.  This love for Christ guides man to renounce the love for all material things.  When man loves God, then there can be no place in his heart for anything else.  For this reason the holy Fathers of the Orthodox Church teach that, he who sins is in reality renouncement Christ's love in exchange for the love of worldly matters.
            The love of the holy Saints of our Church is proved in that they gave everything for His name sake.  St. Paul the Apostle teaches us saying, "Who shall separate us from the love of Christ?  Shall tribulation, or distress, or persecution, or famine, or nakedness, or peril, or sword?  As it is written:   'For Your sake we are killed all day long; we are accounted as sheep for the slaughter'.  Yet in all these things we are more than conquerors through Him who loved us.  For I am persuaded that neither death nor life, nor angels nor principalities nor powers, nor things present nor things to come,  nor height nor depth, nor any other created thing, shall be able to separate us from the love of God which is in Christ Jesus our Lord" ( Rom. 8:35-39).
            My beloved friends, today our Lord and Saviour Jesus Christ calls upon each and everyone of us to follow Him.  Christ is the Way, the Life and the Resurrection.  Christ calls us, not by force, but out of love, to follow Him by our own free choice and will.  No one can force us to do good or evil.  It is in our own will the way of life that we should follow.
            To follow Christ means that one has to carry his cross, as Christ carried His own Cross.  An Orthodox Christian is called to crucify the old man who is within him and to rise as a new creation.  Only if one crucifies his sinful desires can he achieve the resurrection of the virtues.  One must accept suffering and sacrifice for the sake of Christ and His Kingdom, which ultimately brings salvation.  To be a disciple of Christ is costly: it requires giving up all claims to everything the world holds dear.
            In our daily life we all are called to renounce sin and to follow Christ.  To achieve sanctification and salvation one must be purified by the Grace of God granted through the Cross.  Our life is a gift from God, "for what will it profit a man if he gains the whole world, and loses his own soul?  Or what will a man give in exchange for his soul?" (Mark 8:36-37). 
            You have riches, but they are not forever.  God gave them to you in order to see how you will use them for His glory and the benefit of your fellow man.  Let us all recall the foolish rich man.  He had everything that anyone could wish for, but he lost his eternal soul, because he never thought about the needs of his fellow man.  He never considered to work for virtues, but wasted all his time in working out how to make more money, more and more.  At the end when he had so much that he did not know what to do with it, his soul was demanded by the devil to be taken away.
         He did not follow Christ.  He did not renounce himself.  He did not carry his cross, but on the contrary he lived a life surrounded by material and worldly maters.  If one loses his soul, what did he achieve?  Nothing, because our purpose in life is to achieve our salvation in Christ Jesus.  If one loses his soul, then what would all the riches in the world profit him?  If one loses his soul, then what would your properties help you, for you will be placed in the ground.
           Every time that one visits the cemetery, let us hear the voices of those who cry out to us saying: Here is the vanity of the earth.  Here is where all the pleasures of life end.  Here is where the worldly glory ends.  But after death occurs our souls face the real life, the real world. 
              For this reason, my beloved friends, let us all hear the calling of Christ.  Let us, with a humble heart, turn to Christ our God and ask Him His divine Grace and Love.  He is always there for us, waiting for our repentance.  Let us take up our cross and follow Him, who died for our salvation.  Let us confess His name before men, so that He will also confess for us before His Father who is in Heaven (Matth. l0:32).
Orthodox Newsletter of St Theodore, Lanham
By His Eminence Metropolitan PANTELEIMON of Antinoes
Sunday after the universal elevation of the Holy Cross