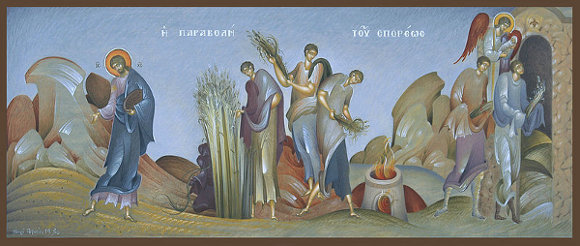 Sunday D' Lukas
12.10.2014
,

  The seed of the word of God and the soil of our heart
 

To reflect on the parable, the Lord refers to four categories of people. The first are these who listen to the word of God, yet it seems as if they don't. The devil comes and instantly seizes it from their hearts. And this doesn't happen accidentally. It is as if man is deaf or unconscious. Man is unwilling, he doesn't look forward to the word of God with love and good will. In the long run, his soul is like trodden land. That's why the seed doesn't grow roots, doesn't work.
The second category are those christians who gladly listen to the word of God, get very enthusiastic about it, rejoice and feel great pleasure about it. Yet, they don't last long as they have no roots. They quit every spiritula effort, when they come across the first difficulties or obstacles, when temptation comes along.
The third category are those people who are zealous. One could say that these people believe in God deeply in their hearts. One may say they are serious people, "good" christians who are well meaning and make an effort. Yet, they confuse spiritual life with the life of sin, with secular life. True enough, whether we like it or not lots of issues will crop up which need tending to and inevitably we will get wrapped up in them. However, our hearts shouldn't surrender to wealth or pleasure. Because all these suffocate man and don't help at all for the seed of God to bear fruit.
The Lord comes to the fourth category. These are the people on whose "good land" the seed of God fell. The person who strives to get rid of his flaws, to uproot sin and desires, who doesn't do as he pleases, or gets misled by pleasure, this very person cultivates his soul and becomes land which is good and fertile. The word of God comes to this person and blossoms.
On the one hand, the whole point is how to become the good and right land, the good and right soul. On the other hand, we need to be patient and wait and, also, do all this good willingly and with joy. No matter how many obstacles come along our way we should always bear in mind that time will come when in our heart the word of God will get pollinated and bear fruit.
Transcribed talks by Archimandrite Symeon Kragiopoulos
From: Holy Hesychasterion "The Nativity of Theotokos" Publications.
The Sower's