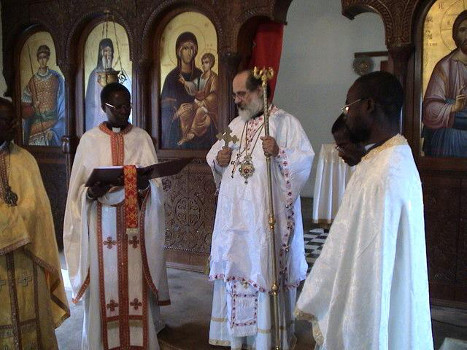 (His Eminence Metropolitan Panteleimon, as the first Bishop of Ghana (West Africa, 1999-2004) celebrating the Divine Liturgy at the Church of the Holy Apostles at the village Larteh of Central Ghana).
(Matth. 4:16)
"The people who sat in darkness saw a great light and to those were under the land and shadow of death a light shown upon them"
Mankind, after the Fall of the first created, was found in the darkness of sin and the tyranny of death. Man's mind was darkened and his conscience was enslaved to the sinful passions. Man from being the King of all creation became a slave to the sinful desires. He is surrounded by an impenetrable darkness, which blinded him and from hour to hour, from day to day, from year to year, and from one generation to the next, he was gradually alienated from his Creator.
The darkness of not knowing the true God reigns. No one knew the One and Only True God. Man turned to the worshipping of the created things. He deifies the natural phenomena and gives human form the powers of nature, so that they may look like him.
In this darkness of not knowing God, man proved to be unable to free himself. Thus, he remained in a spiritual darkness and under the shadow of death for millions of years.
In this hopeless stage, man was not left alone. The Creator of all things because of His love for man planed for his freedom. God the Father sends His only begotten Son into the world, not to judge the world, but that the world be saved through Him. Whosoever shall believe in the Son of God, they shall inherit the Heavenly Kingdom.
Through the Son of God, man learns about the True God, the Father, the Son and the Holy Spirit. The darkness of not knowing is removed and the faith in the Son of God offers eternal life. For Christ is the Source of Life, He is the Slef-Life, He is the only real and true Life.
Orthodox Newsletter of St Theodore, Lanham
By His Eminence Metropolitan PANTELEIMON of Antinoes
Sunday after Epiphany